Danny the Champion of the World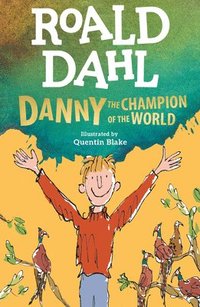 Författare:
Roald Dahl
Genre:
Barnbok
Ämnesord:
äventyr
Utgivningsår: 1975
ISBN: 9780142410332


Köp boken på amazon.se
(betald länk)
* Som Amazon-associates tjänar vi pengar på kvalificerade köp.
Begagnade:


Can Danny and his father outsmart the villainous Mr. Hazell?

Danny has a life any boy would love - his home is a gypsy caravan, he's the youngest master car mechanic around, and his best friend is his dad, who never runs out of wonderful stories to tell. But one night Danny learns the shocking secret that his father has kept hidden for years. Now the secret's out, and Danny's off on a wild adventure. Until Mr. Hazell shows up. He's hopping mad, and he's come to claim what's his.


Utdrag ur boken:
"So here it is," he said, and now suddenly his voice became soft and whispery and very private. "Pheasants," he whispered, "are crazy about raisins."
"Is that the big secret?"
"That's it," he said. "It may not sound very much when I say it like that, but believe me it is."
"Raisins?" I said
"Just ordinary raisins. It's like a mania with them. You throw a few raisins into a bunch of pheasants and they'll start fighting each other to get at them. My dad discovered that forty years ago, just as he discovered these other things I am about to describe to you."