Morse's greatest mystery and other stories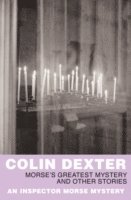 Författare:
Colin Dexter
Genre:
Deckare
Ämnesord:
filosofi, mord, psykologi, kärlek, spänning
ISBN: 9780330451901

Morse had solved so many mysteries in his life. Was he now, he wondered, beginning to glimpse the solution to the greatest mystery of them all...?
How can the discovery of a short story by a beatiful Oxford graduate lead Morse to her murderer? What happens when Chief Inspector Morse himself becomes the victim of a brilliantly executed crime? And why does a theft at Chrismas lead the detective to look upon the festive season with uncharacteristik good will?
This dazzling new collection of short stories from Morse´s creator Colin Dexter includes five ingenious new cases for the world´s most popular fictional detective - plus five other tantalizingly original tales to delight all lovers of classic crime fiction.



Utdrag ur boken:
For not a second longer could I restrain myself. "Gentlemen" I cried. "You are both - both of you! - most tragically wrong."
The two brothers stared at me as though I had taken leave of my senses.