Extremely loud & incredibly close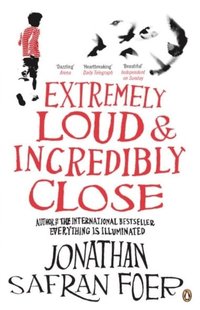 Författare:
Jonathan Safran Foer
Genre:
Roman
Ämnesord:
depression, humor, kärlek, barn
Utgivningsår: 2006
ISBN: 9780141025186


"
Köp boken på amazon.se
(betald länk)
* Som Amazon-associates tjänar vi pengar på kvalificerade köp.
Begagnade:


Nine-year-old Oskar Blum is an inventor, amateur entomologist, Francophile, letter writer, pacifist, natural historian, percussionist, romantic, Great Explorer, jeweller, detective, vegan, and collector of butterflies, Beatles memorabilia, state quarters, miniature cacti and coral. When his father is killed in the September 11th attacks on the World Trade Center, his inward journey towards some kind of peace takes him on an odyssey through the five boroughs of New York, as he attempts to solve the mystery of a key he discovers in his father's closet . . .


Utdrag ur boken:
" What if the water that came out of the shower was treated with a chemical that responded to a combination of things, like your heartbeat, and your body temperature, and your brain waves, so that your skin changed color according to your mood? If you were extremely excited your skin would turn green, and if you were angry you'd turn red, obviously, and if you felt like shiitake you'd turn brown, and if you were blue you'd turn blue.
Everyone could know what everyone else felt, and we could be more careful with each other, because you'd never want to tell a person whose skin was purple that you're angry at her for being late, just like you would want to pat a pink person on the back and tell him, "Congratulations!"
Another reason it would be a good invention is that there are so many times when you know you're feeling a lot of something, but you don't know what the something is. Am I frustrated? Am I actually just panicky? And that confusion changes your mood, it becomes your mood, and you become a confused, gray person. But with the special water, you could look at your orange hand and think, I'm happy! That whole time I was actually happy! What a relief! "