Parrot and Olivier in America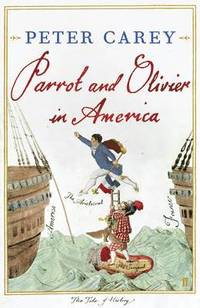 Författare:
Peter Carey
Genre:
Historisk roman
Ämnesord:
politik, historia, kärlek
Utgivningsår: 2010
ISBN: 9780571253296

Olivier is a French aristocrat, the traumatized child of survivors of the Revolution. Parrot the son of an itinerant printer who always wanted to be an artist but has ended up a servant. Born on different sides of history, their lives will be brought together by their travels in America. When Olivier sets sail for the New World, ostensibly to study its prisons but in reality to save his neck from one more revolution - Parrot is sent with him, as spy, protector, foe and foil. As the narrative shifts between the perspectives of Parrot and Olivier, and their picaresque travels together and apart - in love and politics, prisons and the world of art - Peter Carey explores the adventure of American democracy, in theory and in practice, with dazzling wit and inventiveness.


Utdrag ur boken:
"I did this," he said. Removing the folio promptly from his charge, I held it to the light. I had assumed he had spilled his wine but I found no color on the paper except some tiny bits of shirts and petticoats, which had survived the grinding of the pulp.
"Nonsense," I said, irritated to have been unnecessarily alarmed.
He stared at me. "It is not possible."
Duponceau arrived to gaze, not at his own treasure, but at the servant. "What is not possible?"
"These here are my engravings," said the Parrot. "Mine own."